Who We Are
Elite Homes, LLC is a team of knowledgeable, enthusiastic, experienced, and creative individuals who firmly believe that well-designed and constructed environments can help people feel and live better. We offer an unmatched range of expertise, readily available management, and an extensive portfolio of abilities. EH is one of the most detail-oriented construction and remodeling businesses in Massachusetts and Rhode Island, thanks to our excellent management strategy and highly skilled, experienced team. With exceptional craftsmanship, we can take on any project, no matter how simple or complex.
How We Operate
Our enthusiasm, drive, and dedication set us apart from our competition. Elite Homes is a tight knit team that works closely together, is well-trained, and brings tremendous attention to detail and drive on a daily basis, resulting in a seamless approach to each job site. We do this through a one-of-a-kind method that blends your vision with our design and construction expertise. As a result, we're able to construct the most useful and aesthetically pleasing room imaginable. We can help you improve your recent purchase, expand space for a growing family, or modify an existing space to develop with your requirements via meticulous planning and attention to detail. Allow us to begin improving your mood through our design-build process. Request a free design consultation now to get started.
What We Believe
We are passionate about our work and eager to continue to help individuals and families get the most out of their homes. We want the lives of those that we work with to be positively impacted due to the improvements and changes that we make to their living environment. We believe that the work we perform for our customers enhances their lives and that the delivery approach we use enables us to create environments that impact people's lives. EH has also spent many hours considering the types of business practices we want to pursue, the types of individuals we want to recruit, and the type of organizational culture we want to establish.
To enhance and positively impact the lives of those we work with by improving and adding value to their living environment.
To lead the way as a benchmark for high-quality and trustworthy home improvements. We will set ourselves apart by delivering on our promises on a consistent basis. Our standards will far surpass our clients' expectations, but we will continue to strive for improvement. From the first introduction to the last walkthrough, our goal is to create a seamless system focused on your needs and wants.
Having integrity and pride in all the work we do
Open, continuous, and trustworthy communication
Always deliver what we promise
Offer a higher level of service and quality to our customers
Deliver projects on time and within budget
Maintain a high level of transparency, honesty, professionalism, production, and craftsmanship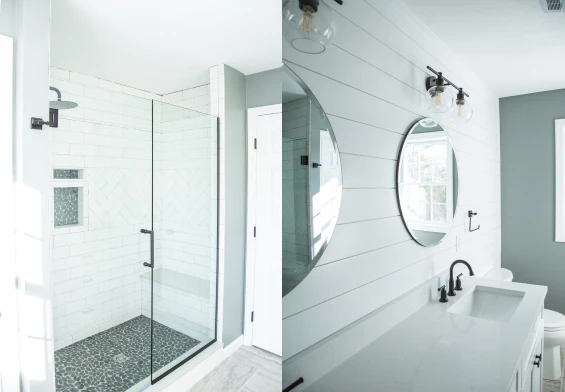 Featured Testimonials
Here's What Our Clients Think
great people great company, highly recommend!!!
Awesome homes, I've personally worked with the owners and they go above and beyond to do outstanding work! Highly recommended
Great team of local guys that's grew up in the community they stand 100% by there word and Work if ur looking for a team to get the job done right it's these guys!!
Melissa Copeland Correia
7/15/2018
Turn Your Dreams Into Reality
Contact Us for a Free Design Consultation